Amelia is proud to announce she's getting a new sibling!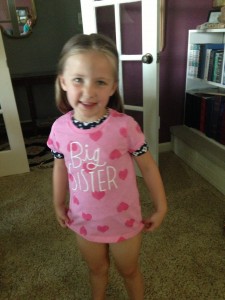 We have been trying to have another baby for about 2.5 years.  We had pretty well given up.  But, our Amelia hadn't!  She kept saying "I think God is still working on it."  If only we had faith like a child…
So, yes, we've announced this very early on, but we are just so excited after all of this time.
Chris says it's a boy, and in fact I get a text message from him every night at 10:25p reminding me of this.  😉  But, Amelia and I both think it's a girl.  Only time will tell…